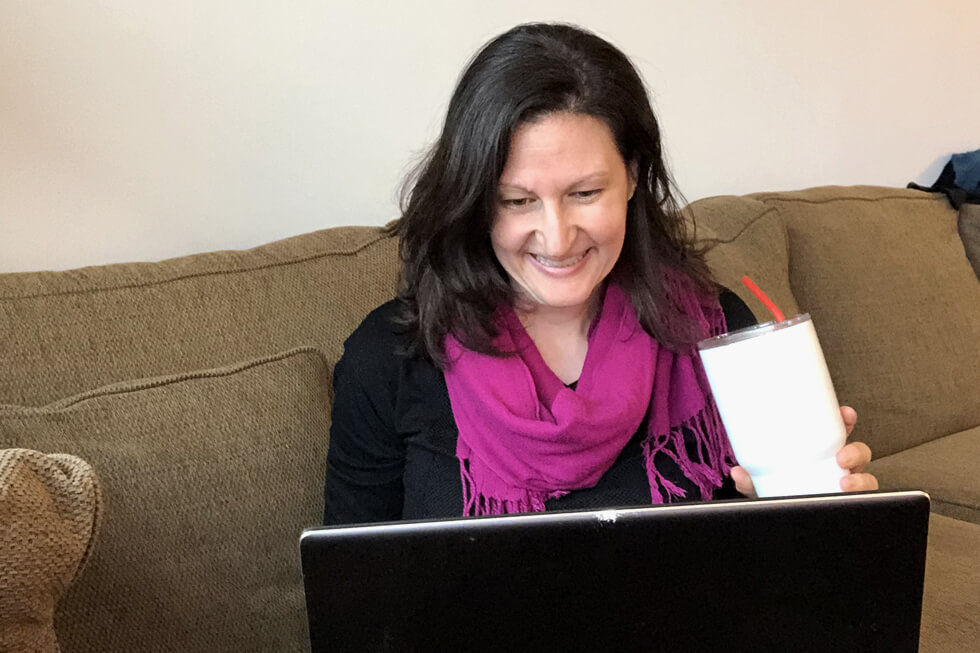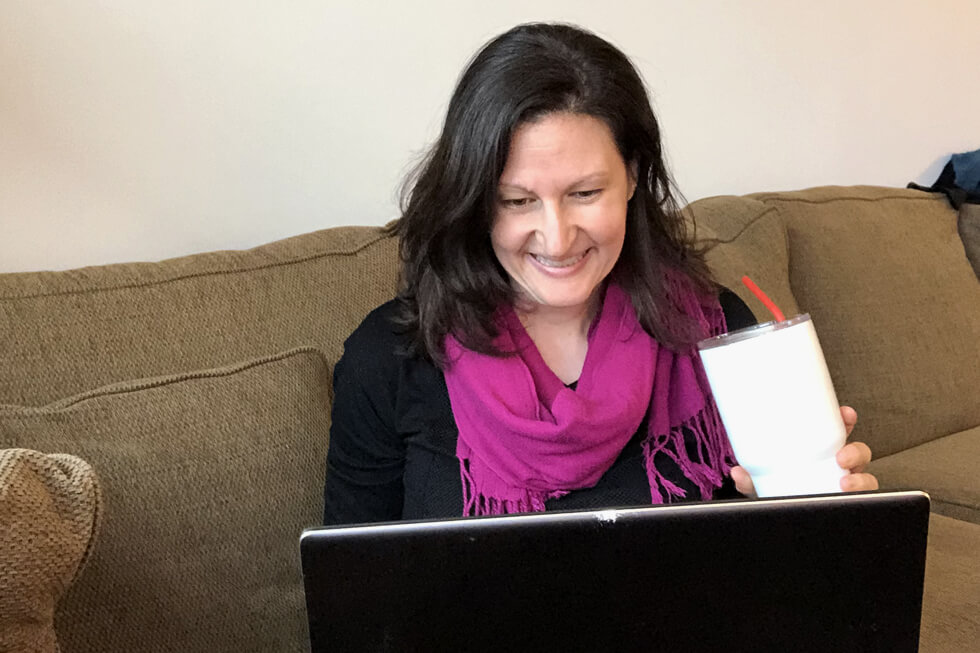 20 Things to do to "socialize" and stay connected with other people while you're stuck at home or in quarantine
Humans are social beings – we all need interaction with other people! And right now, we also need physical distancing for the good of all people. (I was listening to a Gabby Bernstein Instagram chat with Glennon Doyle yesterday and one of them said "the best way we can show up for each other right now is to not show up." How true! But my therapist reminded me today that we should really be calling it "physical distancing" not "social distancing" because we can be physically distant and still be social!).
I'm on day 11 day of my own 'self-isolation' and because I live alone, I haven't been closer than 6 feet to another human in that time. I realized the minute I made the decision to physically distance to do my part to help stop the spread of the virus I was going to need to make a real effort to find alternative and creative ways to connect with others during this time (otherwise I may go crazy!).
Eleven days in I can say that if this had to happen, we are sure lucky it happened at a time when there is a wide array of technology that we can use to help us stay connected to our friends and family! I have been in awe of the creative ways my friends have come up with to socialize with each other during quarantine, and wanted to share some of what I've personally done, and what I've seen them do, to help you stay socially connected despite physical distance and isolation, too!
Things To Do During A Self Quarantine To Stay Connected with Other People and To Socialize At A Distance:
1. Video chat one-on-one with friends, family and your therapist or coach (if you have one).
Yes, you could also talk on the phone (and that's definitely better than nothing), but seeing someone's face and home while you talk to them feels a lot more like a normal interaction and like they are right there with you. I've been doing FaceTime almost every day with my parents, and have done several calls with friends over the last week, too. It's made all the difference in the world for me in not feeling so isolated even though I've been home all alone. (If you don't have Apple devices you can use Google Hangouts Video Chat as an alternative).
2. Do nightly text check in's with your close friends every day.
I have a few friends that I text with each night to check in on each other and make sure we're doing okay. Knowing that connection is coming is great. We'll jump on a video chat immediately if any of us need the interaction.
3. Play a Monopoly game over Google Hangouts or Zoom.
I had a tri-state Monopoly game the other night and it was AMAZING. We used Google Hangouts for the multi person video connection. My friend Kyle was in Connecticut with his friend Melissa. They set up the Monopoly board and all of our money at his house and pointed his webcam at the board. My friend Michèle and I joined the game by video. Kyle rolled for me, Melissa rolled for Michèle. We could see our money (and also each kept track on paper) and made all of our own decisions. It was a blast with so much laughter.
4. Have a virtual happy hour with Google Hangouts or Zoom
A huge group of my friends from a leadership program I did several years ago had a "happy hour" to all catch up on Friday after work (from home) was over. We ended up with 18 people and it was super fun for all of us to get to spend time together!
5. Workout with your gym buddies over Google Hangouts or Zoom.
Plan a workout time together, and set up your webcam so you can see and motivate each other in your own living rooms! (I haven't done this, but I have friends who have with their CrossFit gym and they said it's great!)
6. Take a live streamed yoga or fitness class.
Pre-recorded yoga or workouts at home are awesome, too (hearing the voice telling you what to do feels less 'alone'). But there's something about knowing it's live and multiple people are doing exactly what you are, in that moment, that makes it a little more connected feeling.
7. Make a virtual lunch or dinner date with a friend or family member.
Set a time to eat together, then use your choice of video chat to break bread in your own space, together.
8. Sing with your choir over Zoom!
Okay, you won't catch me doing this because I was once voted the "worst of the worst" at singing by local radio DJ's (seriously) BUT you've gotta admit, this is a pretty cool idea if you do sing (And pretty cool to watch if you can't).
9. Have your neighborhood put rainbows in their windows.
Use Nextdoor to coordinate having everyone in your neighborhood put rainbows in their window to feel like "we're in this together." Then as people walk by the houses they can count the rainbows.
10. Read to a friend's child over video chat (or make up a story if you don't have kids books). Or make it a small group of kids with Google Hangouts
This one is especially great if you don't have kids yourself. And I promise their parents will appreciate you distracting their kids for a little while!
11. Take a live drumming class online
(A friend suggested this to me, but I haven't done it).
Here's a place you can do it on Facebook.

12. Join one of D-Nice's "club quarantine" Instagram Live party's and jam out with tens of thousands (or maybe even 100,000+ other people!) in your own living room!
13. Get a group of friends together and have a video dance party on Zoom.
One person is in charge of playing the music, and everyone dances in their own living room!
14. Stream a live church, synagogue, or other religious/spiritual service.
Leaning on God will help make it easier to get through this time, no matter how you do it. Knowing you're streaming a service live will both help you feel more connected to the religious leaders giving the sermons, and the entire community that is doing the same thing you are.
15. Follow Instagram or Facebook accounts that regularly use the "Live" function to connect with followers and help them through this time.
Again, watching live broadcasts make you feel connected to all of the people doing exactly what you are, while you are doing it. I've been watching Instagram live's with Gabby Bernstein, Brene Brown, Jay Shetty, and D-Nice (club quarantine dance party!). Friends have recommended The Ellen Show, Ilizas (Don't Panic Pantry), Ryan Weiss, Katrin Tajna, and Shiloh Goodin as a few good ones!
I'm also going to start doing some Instagram Live's if you'd like to follow me, also!
16. Watch the Cincinnati Zoo "Home Safari" Facebook Live's
These educational Facebook Live's from the Cincinnati Zoo let you take a daily trip to the zoo at 3pm EDT. They are featuring a different animal every day.
17. Have a Netflix Party movie night with friends and family!
The Netflix Party app will let you synchronize your movie night streamed over Chrome. Everyone will be at exactly the same point in the movie, and they add a group chat function, too.
18. Create Group Me text groups to stay connected with groups that all know each other.
I have a couple of Group Me groups that have come to life supporting each other during this time. (These can be used to arrange happy hours, group video hangouts, etc).
19. Cook dinner with a friend (or teach each other how to cook something new).
Set up your laptop with the video cam facing your cooking area in your kitchen and cook a meal together over Google Hangouts.
20. Connect with a Coach or Your Therapist.
I'd be remiss if I didn't include this as a recommendation of a way to connect with another person during your time at home! Coaching or therapy sessions are one way to have a very deep connection with another person!
Online resources that may help you feel more socially connected
(I haven't checked all of these out, was just told they're great! These are not affiliate links, just a resource to help!):
Let's stay in touch during quarantine! Join me on social media to keep up with all of the quarantine resources I find and create:
FACEBOOK – PINTEREST – INSTAGRAM
WANT TO PIN THIS POST? Here's a Pinterest ready image: