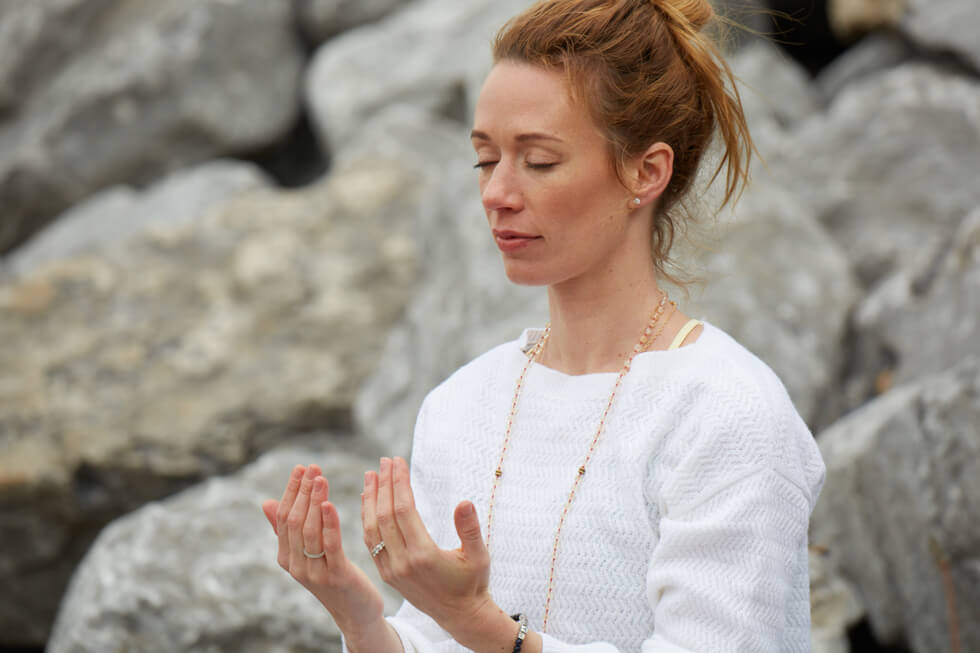 At Home Reiki and EFT Tapping for Beginners: Energy Healing Resources To Use During Quarantine
I grew up getting reiki healing and energy healing, and learned at a young age that spiritual energetic work can make a huge difference to your personal wellbeing. Spiritual healing modalities, like reiki and EFT (emotional freedom technique), can be a beautiful support as we deal with quarantine and all of the anxiety, stress and fear around what is happening in the world right now.
I'm a huge energy healing believer – and a huge skeptic!
Because I can feel energy in a way that most people can't (it goes with being intuitive), I've learned from personal experiences that many "energy healers" and "reiki masters" aren't actually doing much of anything. There's a huge difference between a healer who is truly meant to work with other people, and one who is just meant to use the tools for themselves. And I personally feel like a lot of people selling energetic healing or reiki should probably just be using it on themselves and not other people. But when a healer is truly meant to help other people utilizing these tools, they can have an incredible impact on our lives.
A Reiki Master and EFT Teacher That I Really Trust and Believe In
Enter my friend Kelsey Patel. I met Kelsey when my friend Anna Ruth asked me to go to a yoga retreat in Bali with her in early 2018. Kelsey, who is one of Hollywood's leading wellness and reiki healing experts, was leading our retreat. When I first met Kelsey I saw light radiated off of her. Just watching the way people were drawn to her, I knew that she was special. But given all of my own experiences with "energy healers" I was a bit skeptical she would live up to the reiki and energy healing hype I'd read about her online. I was really just there for the yoga in Bali. Actually, in my mind I was really just there for Bali. The yoga was just a nice little benefit on top. Reiki wasn't really on my mind.
I remember going to the yoga shala for our first class after we checked in to our retreat. I stepped into the hut and the floor was vibrating. My entire body buzzed. At first I thought it was the spot where they built the shala (I was in Bali after all) but then I realized that energy I was feeling was distinctly reiki energy. I saw Kelsey and asked if she'd done something to the space. "Yes, I just reiki'd the whole shala" she told me. I buzzed with the amazing healing energy the entire class. I knew in that moment that she was the real deal.
A couple of days later I got a strange rash. When it didn't go away for a few days I finally went to Kelsey and asked if she'd do some reiki on me after class to see if it would help. She ended up doing a combination of reiki and EFT tapping (her other energy healing specialty) with me, and 30 minutes after session my rash was gone.
In the two years since Bali, Kelsey and I have stayed in touch, and she's sent me distance reiki several times (which I can legit feel from 2,000 miles away, every time). She's an amazing reiki and EFT teacher also, and I knew that she has a lot of resources out there that can be utilized from home. So I reached out to Kelsey a few days ago and asked her to send over her best at home reiki and EFT tapping resources for beginners so I could share them with you. I wanted you to have some amazing energy healing resources that you can use to support yourself during quarantine.
To be clear – I asked Kelsey to share these resources, and she is not paying me to do this. I am sharing this information because I truly believe these energy tools and resources can help with the stress and anxiety of quarantine, and because I am skeptical of a lot of the information that is out there. But I trust Kelsey, and I know if she's putting it out there it is the real deal.
So with that in mind, here are some of Kelsey Patel's best Reiki, EFT, mediation, and other personal wellness resources to help support you during quarantine:
Let's stay in touch during quarantine! Make sure to sign up for my emails (at the top of the page) and join me on social media to keep up with all of the quarantine resources I find and create:
FACEBOOK – PINTEREST – INSTAGRAM
WANT TO PIN THIS POST? Here's a Pinterest ready image: