Get To Know Nicole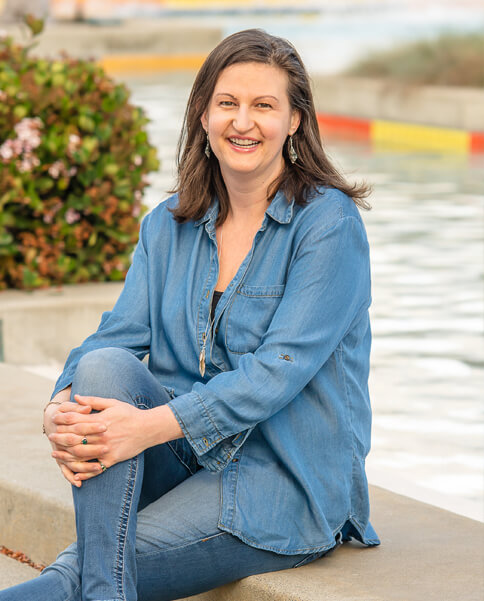 Nicole's successful background in executive leadership, business, marketing, journalism, and politics—combined with her passion for AI, service work, and vast travel experience—adds a unique depth of perspective to her AI consulting and training.
Born in Southern California, Nicole spent most of her childhood growing up on a ranch in a small town in Colorado before moving to metro Atlanta at 12.  She went on to swim for the Division I swim team at UNC Wilmington where she graduated with a BA in Psychology (a course of study that is an invaluable asset in her marketing and leadership work).
Nicole has always been able to intuitively see and create opportunities for herself and others. When Nicole needed to make money the summer after her sophomore year of college she created a personally curated visitors guide, sold advertising, and then walked the beaches of Wilmington personally distributing over 8,000 copies of the guide.
When Nicole wanted the perfect internship the summer after her junior year of college, she contacted Swimming World Magazine and convinced the editor to create an editorial internship to help him cover the summer leading up to the 2004 Olympics. She spent her summer interviewing and writing about Olympians, learning what makes people operating at the highest level of performance both tick and excel.
After her internship she needed to take time off school for financial reasons (she was no longer swimming because of injuries).  Her dad sold chocolate fountains at the time, and Nicole saw an opportunity to make money selling chocolate for the fountains.  This company, Chocoley, was 'supposed' to last a few months to make money during her time off of school, but fate had other plans for her and her family.
In the early days of Chocoley, Nicole also convinced a startup national business magazine focused on work with purpose, passion and profit to create an internship for her, which quickly became a senior editorial assistant position. She worked for the magazine for two years (until shortly after her graduation), alongside her highly accomplished editors: a Pulitzer Prize winning journalist and a former editor of the Wall Street Journal. Through the business journalism work and directly through witnessing her bosses, she was once again learning what makes the most successful people in the world thrive.
Meanwhile, Chocoley was also growing.  When Nicole brought the lessons she learned at both magazines back to her own business it didn't take long to build Chocoley into a million dollar+ a year food company listed in the Top 1,000 e-commerce sites in the United States. Nicole had (along with her family) done what very few entrepreneurs – especially young female ones – ever accomplish: Her chocolate ingredients company had broken the million dollar a year mark before she was even pushing 30!
During her leadership tenure, Chocoley produced over $13 million in total revenue and served tens of thousands of business and consumer customers – a huge accomplishment for a company that started out of a living room on a college kids' personal credit cards.
In 2021, Nicole began to explore the potential of AI tools in marketing. In the same year she joined the team at Resilia – a remote-distributed VC-backed tech for good SaaS company serving the nonprofit sector, with a heavy focus on supporting BIPOC-led and serving organizations. As Resilia's head of marketing, Nicole gained vast experience and understanding of the SaaS, technology, and nonprofit sectors, and in building inclusive and culturally aware communications strategies speaking to diverse audiences. Excited about the extraordinary potential of AI in marketing, Nicole immediately integrated AI into Resilia's marketing strategy when she joined the team. Through daily use and rigorous experimentation, she became proficient in utilizing Generative AI tools for marketing, ensuring her entire team was leveraging the available tools effectively.
The impactful results she witnessed at Resilia led to her deep fascination with AI technology, a love that propelled her to explore more AI tools available in the market.
After leaving the company, she dove even deeper into AI technologies. The arrival of ChatGPT marked a significant milestone in her career, and she was among the earliest adopters of the tool in early days of December, 2022. Recognizing the profound change it brought, especially in marketing, Nicole devoted herself to mastering ChatGPT and combining its capabilities with other tools. Soon, her expertise was sought after by CMOs in her community, leading her to speak at marketing team meetings and eventually transforming into a career she cherishes – training marketing teams and companies on leveraging AI tools in their strategies.
A lifelong volunteer, Nicole has always been committed to service. She has filled many volunteer, leadership council and board level non-profit positions throughout her adult life.
In 2008 Nicole became a grassroots volunteer with Obama For America, and through her volunteer work she found her way to President Obama's young professional political finance (fundraising) operation in 2012.
"It turned out that her natural intuition, combined with her ability to build relationships and coalitions, her motivation for greater service, and her entrepreneurial spirit, made a powerful combination for political fundraising and political leadership in general. Before Nicole knew it she was a member of President Obama's "Victory Trustees" (a branch of his National Finance Committee) and she was attending The President and Vice President's events all over the country. Both President Obama and Vice President Biden began to recognize her. She quickly became friends with and an informal adviser to US Senate Candidates, and Gubernatorial Candidates, Mayoral Candidates, and business and political leaders all over the country. She hosted events and even spoke at an event she created that was headlined by an A-list movie star and Dr. Jill Biden.
Nicole eventually joined the DNC's National Finance Committee and was a member of Hillary Clinton's National Finance Committee during the 2016 election. She later served as a Women for Biden Finance Council National Co-Chair and a Biden For President National Finance Committee Member during the 2020 Presidential election.
In 2014 Nicole was nominated for a program called LEAD Atlanta – a prestigious young professional leadership and personal development program run by Leadership Atlanta.  The program allowed her to grow her leadership skills and to build incredible relationships like the ones she had on a national level through politics, within her own community.  She is still very involved in LEAD alumni work and activities today.
Nicole is passionate about equity, social justice, and anti-racism. She mentored a "little sister," served on the leadership council for Year Up Atlanta (an organization committed to closing the opportunity gap through career training and job placement), has participated in multiple Atlanta leadership programs centered around diversity, equity, and social justice, and has served as a leader in social justice initiatives through her temple. She has also been very involved with multiple voting rights initiatives and projects. 
Other issues Nicole is passionate about include sustainable food security, climate change, climate resilience, regenerative agriculture, community and economic development, combatting poverty, and protecting democracy.
Outside of her professional and service life, Nicole is an avid traveler. She has spent time in most U.S. states, and over 40 countries on six of the seven continents, and is passionate about seeing real life and gaining perspective everywhere she visits.  She is also a photographer (she especially loves taking travel photographs). (You can view some of her favorite photos here).
Nicole also loves lifelong learning! In 2021 she completed her "Food Security and Sustainability" XSeries program certificate from Wageningen University & Research (the top agricultural sciences university in the world) on the edX platform. The three university courses in the program covered sustainable crop production, systems thinking, and food access. Beyond these courses, she has also spent a considerable amount of time further self-educating about climate change, climate resilience, food security, sustainable agriculture, and sustainable food supply chain issues in the United States.
And of course, Nicole is deeply committed to her own ongoing personal development and growth.
She meditates daily, prays in the morning and at night, reads extensively, and practices yoga.
Get to know Nicole in photos: